ROV «Super GNOM Pro»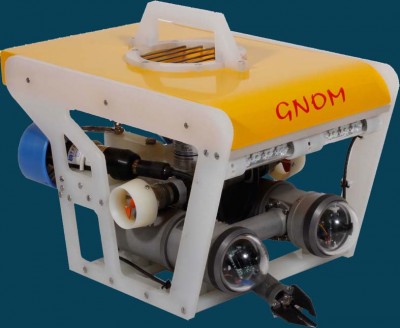 ROV of the professional line of ROVs GNOM family.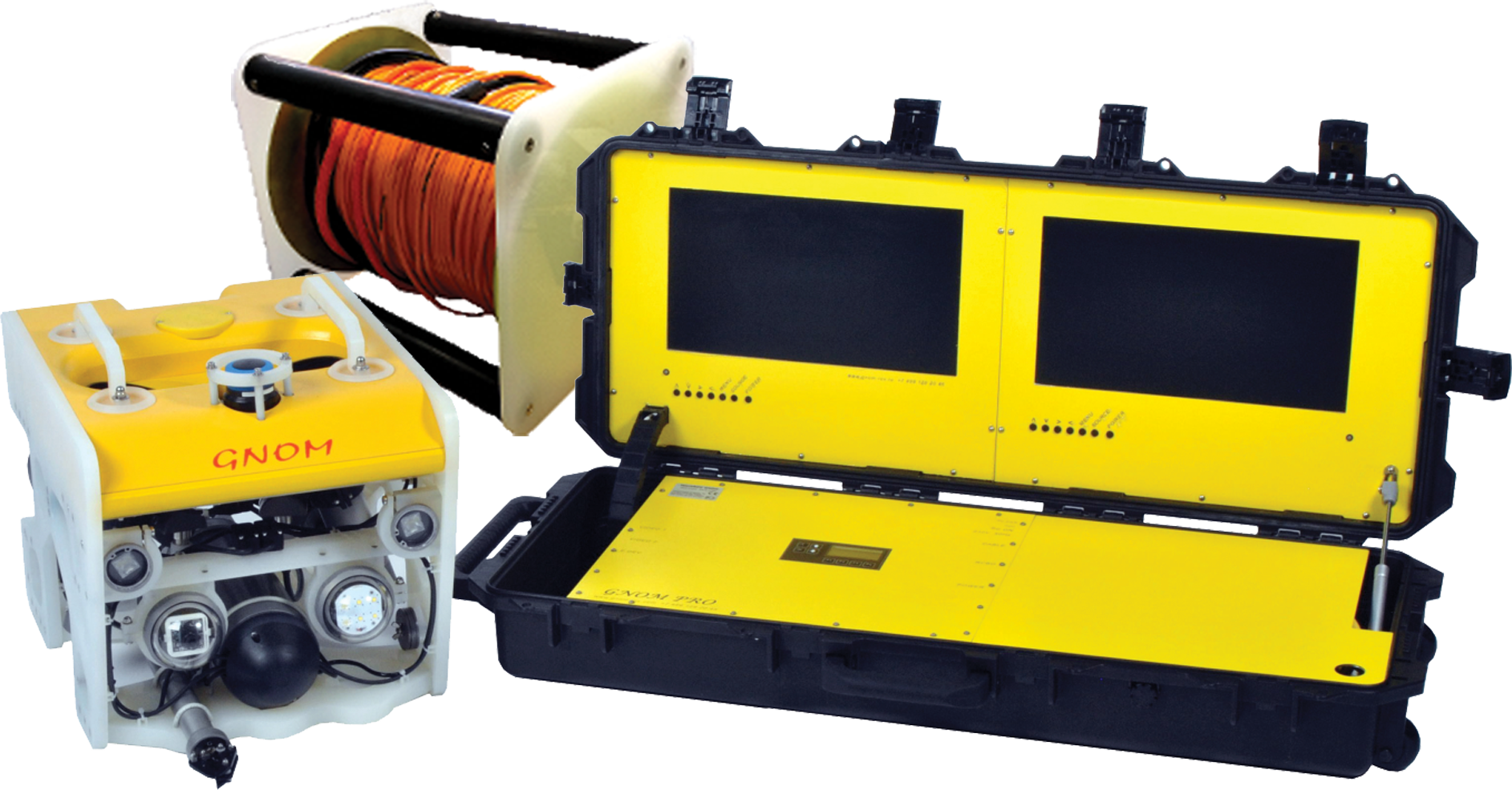 Technical specifications
UNDERWATER PART

Maximum Operating depth
up to 150m (optionally 300m)
Dimensions (LxWxH)
600 mm x 380 mm x 400 mm
Weight in air / total system weight
25 kg / 100 kg
Thrusters
4 magnetically coupled brushless DC motors
Horizontal: 2x thrusters, 48 VDC 200W
Vertical: 2x thruster, 48 VDC 200W
Cruising speed (forward)
up to 4 knots
Lateral speed (optional)
up to 0.5 knots
Thrust Forward
12 kgf
Thrust Vertical
10 kgf
Payload
2 kg
Vehicle Protection
Polypropylene frame

TETHER

Max. tether length
400 m
Cable diameter
10 mm
Breaking Strength
200 kg
Weight in Air
7 kg/100 m
Weight in Fresh Water
Neutrally Buoyant
Type
Multicore tether with kevlar wires
Max. Working Load
60 kg

CAMERA SYSTEM

Camera Model
Sony Super HAD 2 CCD
Camera resolution
700 TV Lines
Image Sensor
1/3" Interline Transfer CCD
Mini Illumination
0.1 lux (0.01 - b/w camera)
Lens
3.6 mm/F2.0
Iris Control
Auto
Focus
Auto
Field of View (FOV)
66º
Camera Tilt
+/- 50º

LIGHTING SYSTEM

Light Source
White ultra-bright LEDs
Number of LEDs
10x
Power
4x8 watts, 6x1 watts
Luminous Flux
6000 lumen
Beam Angle
105º each
Colour Temperature
5600-6000º Kelvin
Control
Variable intensity

TELEMETRY SYSTEM

Sensors
Compass and Depth sensors
Teletext
Yes
Auto-guide mode
Yes
Auto-depth mode
Yes
Heading Accuracy
+/-3º
Compass Resolution
0.5º
Depth Sensor Accuracy
1% F.S.

SURFACE CONTROL UNIT

Power supply
100-240 VAC @ 2000 W, 60-50 Hz
Recommended Input Voltage
220 VAC
Pawer output
360 VDC
Monitor
15" LCD
Control Panel System
Yes
ON-Screen Display
Yes
Navigation system
Joystick
DVR
Optional
System Protection
Full system packed in 3 high-performance waterproof cases
System basic set:
SuperGNOM Pro submersible (operating depth up to 300m)
4 magnetically coupled thrusters. 2 horizontal, 2 vertical
Tether 200 m (upto 400)
Compass with the auto-heading mode (data on screen overlay)
Depth sensor (auto-depth mode)
2 color videocameras (front and rear)
Camera tilt servo ±50°
Lights (front fnd rear) / Lights with tilt servo
LCD TV monitor 15"
Manipulator 1 or 2 function (option)
Sector scan sonar (option)
USBL positioning system (option)
Hand reel with slip ring conector
Surface control/power unit
Protective polypropylene frame with buoyant module
3 cases
Joystick
Cable connectors set
Repair kit
User's manual
Standard ROV warranty (except tether and propellers) is 1 year .
Time of manufacturing is 8 – 12 weeks.
Can be used in:
Extra Equipment
USBL positioning system
The MicronNav system is an innovative USBL positioning system designed for small vehicles. It has been primarily designed to be used in conjunction with the Tritech Micron/SeaSprite sonar and other Tritech Micro products. This concept will also be adapted and integrated into the Tritech SeaKing range of products in the future. More info..
Sector scan sonar
Type Micron Tritech. Operating frequency Chirped 650kHz to 750kHz. Range settings From 2m (6ft) to 75m (250ft). More info...
Rear camera with ambedded cluster LED lights
Camera is installed instead rear thrusters or on a frame; extremely useful survey of side walls of underwater facilities, ship hulls, bottom etc.
Grabber 1 or 2 functional
1 (grabber) or 2 functional (grabber + rotating) manipulator. It is can be used for sampling or fixing of the vehicle on the underwater object (compression load up to 5 kg; air weight - 0.5 kg; dimensions - 200x30 mm).
Thickness gauge
Thickness gauge
Tether counter
Tether counter