ROV of the professional line of ROVs GNOM family.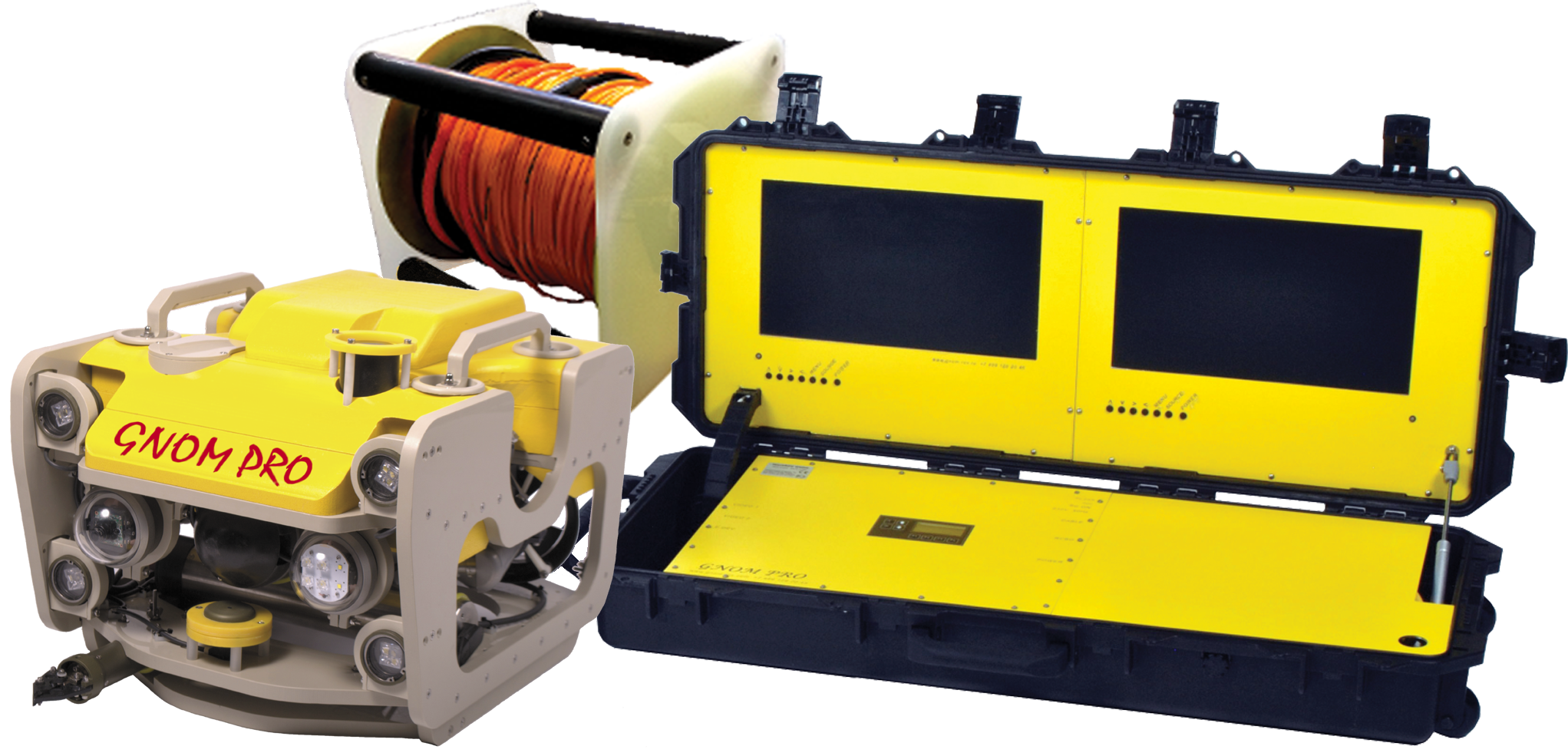 Technical specifications
UNDERWATER PART

Maximum Operating depth
150 m (optionally up to 300 m)
Dimensions (LxWxH)
520 mm x 440 mm x 347 mm
Weight in air / total system weight
25 kg / 100 kg
Thrusters
4 magnetically coupled brushless DC motors
Horizontal: 2x thrusters, 48 VDC 200W
Vertical: 2x thruster, 48 VDC 200W
Cruising speed (forward)
up to 4 knots
Lateral speed (optional)
up to 0.5 knots
Thrust Forward
12 kgf
Thrust Vertical
10 kgf
Payload
5 kg
Vehicle Protection
Polypropylene frame

TETHER

Max. tether length
400 m
Cable diameter
10 mm
Breaking Strength
200 kg
Weight in Air
7 kg/100 m
Weight in Fresh Water
Neutrally Buoyant
Type
Multicore tether with kevlar wires
Max. Working Load
60 kg

CAMERA SYSTEM

Camera Model
Sony Super HAD 2 CCD
Camera resolution
700 TV Lines
Image Sensor
1/3" Interline Transfer CCD
Mini Illumination
0.1 lux (0.01 - b/w camera)
Lens
3.6 mm/F2.0
Iris Control
Auto
Focus
Auto
Field of View (FOV)
66º
Camera Tilt
+/- 50º

LIGHTING SYSTEM

Light Source
White ultra-bright LEDs
Number of LEDs
10x
Power
4x8 watts, 6x1 watts
Luminous Flux
6000 lumen
Beam Angle
105º each
Colour Temperature
5600-6000º Kelvin
Control
Variable intensity

TELEMETRY SYSTEM

Sensors
Compass and Depth sensors
Teletext
Yes
Auto-guide mode
Yes
Auto-depth mode
Yes

SURFACE CONTROL UNIT

Power supply
100-240 VAC @ 2000 W, 60-50 Hz
Recommended Input Voltage
220 VAC
Pawer output
360 VDC
Monitor
15" LCD
Control Panel System
Yes
ON-Screen Display
Yes
Navigation system
Joystick
DVR
Yes
System Protection
Full system packed in 3 high-performance waterproof cases
System basic set:
GNOM Pro submersible (operating depth up to 300m)
4 magnetically coupled thrusters. 2 horizontal, 2 vertical
Tether 10 mm, 200 m (up to 400)
Compass with the auto-heading mode (data on screen overlay)
Depth sensor (auto-depth mode)
2 color videocameras (front and rear)
Camera tilt servo ±50°
Lights (front fnd rear) / Lights with tilt servo
LCD TV monitor 15"
Manipulator 1 or 2 function (option)
Sector scan sonar (option)
USBL positioning system (option)
Hand reel with slip ring conector
Surface control/power unit
Protective polypropylene frame with buoyant module
3 cases
Joystick
Cable connectors set
Repair kit
User's manual
Standard ROV warranty (except tether and propellers) is 1 year .
Time of manufacturing is 8 – 12 weeks.