About The Company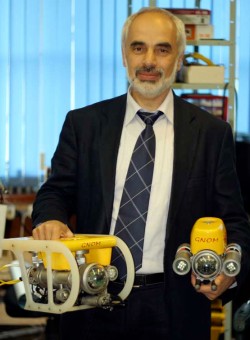 The Indel-Partner Company was founded in 2001 in Moscow, Russia.
The main focus of the company's activity is a development and manufacture of underwater video cameras and compact remotely operated underwater vehicles (ROV), as well as carrying out underwater contracted works. Initially ROV Gnom has been designed for the company's own needs, but due to the successful high-tech engineering solutions, ROV Gnom became to be very attractive for Russian and foreign customers. Based on this interest Indel-Partner started to develop manufacture and market ROV Gnom. ROV price is relatively low in comparison with the similar devices where as majority of technical parameters surpasses analogues. Several ROV Gnom modifications designed for different depth ranges and equipped with umbilical cables of different lengths, diverse video cameras, manipulators etc. have been developed in respect to operating experience and requests from various customers.
Company produces several types of ROV Gnom and underwater cable video cameras based on Gnom technology. All these devices are mainly designed for various underwater survey operations.
The main advantages of ROV Gnom:
Easy to use – even one person can operate the ROV using game joystick;
Very convenient for operations from any water craft – ROV can be launched from large vessel or even from rubber boat;
High availability – the whole system setup time is less than 3-5 minutes
High maneuvering capability and ability to operate in hard-to-reach places such as small holes and cavities;
Easy for transportation – the whole system can be packed in two cases and carried by hand.
Battery power supply built in surface control case.
Now the Indel-Partner Ltd is a team of highly qualified experts that have wide and great knowledge, skills and experience in development of underwater survey devices.
Our company has produced more than 500 ROV Gnom of several types that have been used on a wide range of underwater projects all over the world.