Report about using GNOM underwater vehicle in the Arctic
Report on the use of underwater remotely operated vehicle GNOM during under-ice operations in the North Pole area.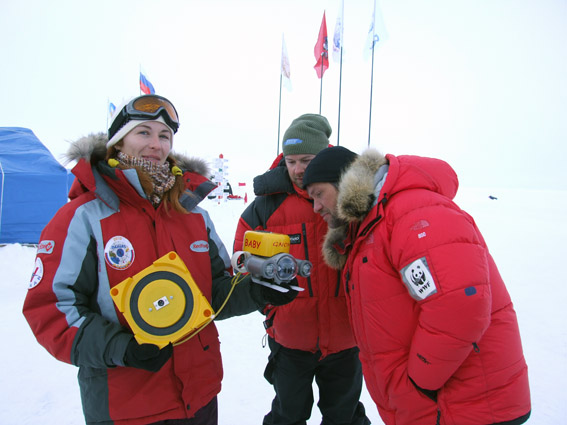 During the expedition PAICEX 2010, we used to work underwater remotely operated apparatus GNOM Micro developed by Indel-Partner, Ltd.
It was the first experience of using our device of this type. The main aim was to test the possibility of using the device in extreme low temperatures under the ice, as well as the prospects of its application in the future for the purposes of the expedition PAICEX (PanArctic Ice Camp Expedition).
The machine has worked a total of about 70 minutes, with 11 April, several dives at N89.14 E109.34, in close proximity to the North Pole, on the ice base "Barneo". All dives were held in normal mode, no faults and failures in the machine was not, the problem is fully implemented. Recorded clips lasting about 50 minutes, examined next hummocks, completed filming diving conducted in parallel. The surface temperature of -26 degrees C, the water temperature is -2 degrees C, ice thickness of 174 cm. Machine control was carried out directly from the hydrological wells in which divers dive and run the machine. All dives are made with backup device in case of a diver stuck in hummocks or obfuscation.
In general, the apparatus was completely working unit for the under-ice operations in the Arctic, has worked without a glitch, the tasks performed. Group PAICEX thanks Indel-Partner, Ltd for the provision of machinery.
Scientific leader of the expedition, I.A. Melnikov
March 29 - April 11, 2010
GNOM operator - Y. Evdokimov