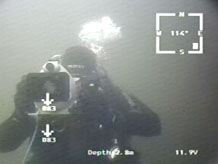 Using a small remotely operated underwater vehicle GNOM, located on board the yacht, you can look into the most remote and beautiful corners of the underwater world, to observe life underwater inhabitants. You have a unique opportunity to take pictures and write a film about the underwater world of the VCR and the computer memory in a digital format without diving. You can make a movie and photos of your friends who are fond of scuba diving. All you need for this, is a simple joystick control ROV that can be submerged up to 100 m. In the dark or in deep water, you can turn on the descent capsule powerful illuminators.
Quote from the website of the Federal Centre for Science and High Technology - Institute of Civil Defense and Emergencies:
"Remotely operated underwater vehicle "GNOM" - a unique Russian design, which has no analogues in the world today. In the "GNOM" the most modern computer and telecommunication technologies that make it simple to operate, small-sized, easy and inexpensive."
Applied technical solutions allow to use for communication with the robot thin (3 mm diameter) single-wire coaxial cable through which transmits the control command, the power supply and video signal.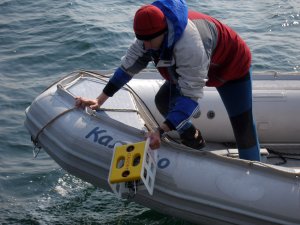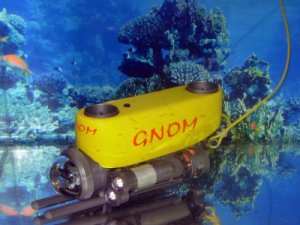 GNOM weighs just 2 kg and has a size of 2-liter plastic bottles. Is controlled by a joystick or remote ordinary game of set-top box "Sony". The entire system, including the GNOM itself, coil cable length of 150 m, the remote control unit with power and battery with integrated battery and a flat LCD display, placed in two plastic case, and weighs 18 kg. It can be transported by one person on a train or airplane, it can take on a boat or a boat even on a simple, having no power supply, and to deploy in a working condition for a few minutes.
With GNOM ROVs you can conduct remote underwater video, climb out of the reach divers and divers, for example, in the wrecks. GNOM ROV can not only inspect them outside, but also to penetrate inside, which makes none of the existing world of underwater vehicles.
With GNOM ROV you can explore underwater caves, both attractive and dangerous for divers. It can be used in industry for inspection of underwater structures, pipes, oil and gas pipelines, the state of the bottoms of ships, tanks with water. GNOM may also be useful in emergency response in water areas for the study and observation of fish and other marine life. The maximum depth to which it sinks - 150 m.
Center for underwater operations of special purpose
Moscow, Russia