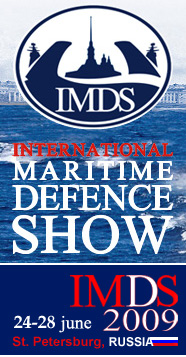 Under the Russian Federation Government's order No.8-p dated 14 January 2008, the Fourth International Maritime Defence Show (IMDS-2009) will take place on the 24 - 28 of June, 2009 in St.-Petersburg. The organizer of the IMDS-2009 is the The Ministry of Industry and Trading of the Russian Federation. The show is held under the auspices of the Ministry of Defence of the Russian Federation, the Ministry of Foreign Affairs of the Russian Federation, the Federal Service of Military and Technical Cooperation, the Government of St. Petersburg and FSUE Rosoboronexport. The Organizer of the IMDS-2009 is "Morskoy Salon" JSC.
The IMDS was held in 2003, 2005, 2007. The event deserves its right to be among the three world leading maritime and naval exhibitions.
The profile of the exhibition covers all stages of the shipbuilding and marine equipment construction: naval architecture, electric-power units, weapon and armament, naval aviation, navigation and monitoring systems, support structure, new materials and technologies. The huge area of the exposition will be occupied by the producers of hardware, equipment, electronic components, information technologies.
We invite you to visit our stand, where different models of ROVs GNOM will be shown. We look forward to seeing you in hall №5, stand №502.